Victoria Vox Concert and Workshop
$

15.00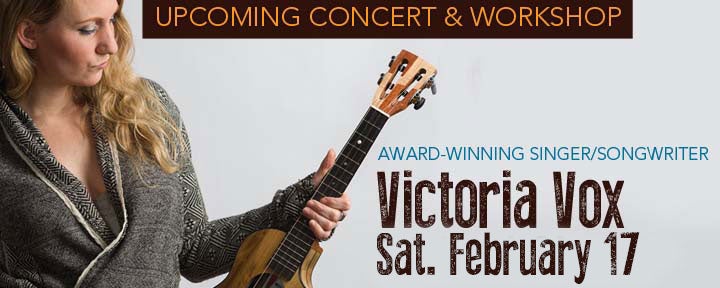 Award-winning singer/songwriter, Victoria Vox will be onstage with her husband Jack Maher on ukulele and guitar at the Academy for a rousing concert. They'll play a full show of refreshing, heartfelt, original tunes. It will be an intimate night of songs and the stories behind them.
Join us:
Victoria Vox in Concert
Onstage at The North Carolina Ukulele Academy
203 Racine Drive, Suite 205, Wilmington, NC
Saturday, February 17 @ 7:30 PM
$15.00 admission
DOORS OPEN at 7:00PM, limited seating available.
Victoria Vox Workshop
Victoria teaches her style & technique.
BECOMING A MULTI-TASKER / PERFORMANCE TECHNIQUES (plus and intro to Mouth Trumpet!)
Saturday, February 17 @ 4pm- 5pm
$35.00 for the workshop (includes admission to concert)
About Victoria Vox:
Touring both nationally and internationally, Victoria has found acclaim from fans and critics alike. In 2012 she crowd-funded the 52 Original Song Project, taking a full year to write and record a song a week. Her eighth album, Key, was released in the spring of 2013 and features 11-tracks created during the Original Song Project. Victoria also made an appearance on the Jay Leno Show in December of 2009 to display her unique talent of playing mouth trumpet, that is, recreating spot on trumpet sounds only using her mouth.
For more information, call us at 910-538-3419