Lil' Rev Concert & Workshop
$

15.00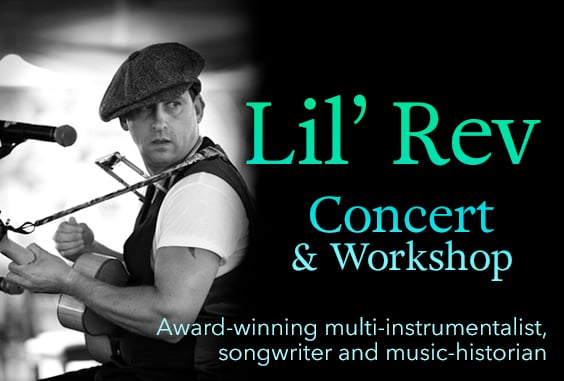 Lil' Rev in Concert:
Onstage at The North Carolina Ukulele Academy
203 Racine Drive, Suite 205, Wilmington, NC
Wednesday, July 18 @ 8:00 PM
$15.00 admission
DOORS OPEN at 7:30PM, limited seating available.
Lil' Rev Workshop:
Rev teaches his style & technique.
The Blues & Boogie of Lead Belly for Ukulele: includes songs, licks, strums, boogie woogie patterns, history and more for all levels.
Wednesday, July 18 @ 5:30pm
$39.00 for the workshop (includes admission to concert)
About Lil' Rev:
We are pleased to welcome back the amazing Lil Rev, back to our stage! He's an award-winning multi-instrumentalist, songwriter and music-historian who teaches and tours around the continental US and you've never heard anything like him.
Known as a "protector of old songs, poetry and stories," he has an ever-growing fan base among lovers of all things: Ukulele, Folk, Old Time, Harmonica, Jewish Music & Culture, American Labor History and Respect for our Elders!
Lil Rev calls his style of performance…edu-tain-ment. His concert and workshop will be an unforgettable experience.
For more information, call us at 910-538-3419